Systemic racism pervades the very air we breathe, the water we drink, and the land we inhabit. We've created two separate rides that explore the theme, and the damage that environmental racism causes. One ride is within the city of New Orleans; the other travels upriver and explores the fence-line communities of Cancer Alley.
Route A: New Orleans East and Desire
Click here to see suggested turn-by-turn directions and stop info for this 23 mile route.
Route B: Audubon Park to the Spillway
Click here to see suggested turn-by-turn directions and stop info for this 52 mile route.
Turn by turn directions can be found here: https://goo.gl/maps/z1iRnGy85k4RtxbGA
Stop 1: Shell Norco & the Diamond community
In the early 1950s, Shell purchased land in the community of
Diamond
, Louisiana, and built a chemical plant. A small subdivision, Diamond was home to most of the Black population living in Norco at the time. A pipeline explosion in 1973 that killed two Diamond residents, while another event in 1988 killed seven workers. Finally, in 1989
Margie Richard
, a resident of Diamond, founded Concerned Citizens of Norco (CCN) after two large-scale accidents at the Shell/Motiva Chemical plant. CCN's goal was for Shell Chemical to fund the relocation of Diamond families by purchasing homes at market value. However, until 2001 Shell was purchasing homes in Diamond for around $27,000, a fraction of the price that houses only a few blocks away were selling for. Finally, on June 11
th
, 2002, and under continued pressure from CCN, the EPA, and the Louisiana Bucket Brigade, Shell agreed to buyout Diamond.
Neighborhoods that are immediately adjacent to industrial plants, and are directly affected by the noise, odors, chemical emissions, and operations of those plants exist all along an 85 mile stretch of the Mississippi River between New Orleans and Baton Rouge, also known as Cancer Alley. The Louisiana Bucket Brigade continues to advocate for the residents of these "fence-line" communities. For twenty years, they have provided technical support in the areas of media, air monitoring, organizing, cartography, accident research, and report writing. Visit https://labucketbrigade.org/ to learn more.
Stop 2: Kugler and Kenner Cemeteries
Construction of the Bonnet Carré Spillway destroyed
two cemeteries
dating back to the 1800s that held the remains of enslaved African Americans and their descendants. Since then, the burial sites have earned proper designation and a place on the
National Register of Historic Places
. There are no markers for the cemeteries themselves, although the Army Corps of Engineers has tentative
plans to eventually create monuments
to the people who lived and died in this area.
Read more about the cemeteries in Robin McDowell's piece for Antigravity, "Sacred Ground: Unearthing Buried History at the Bonnet Carré Spillway."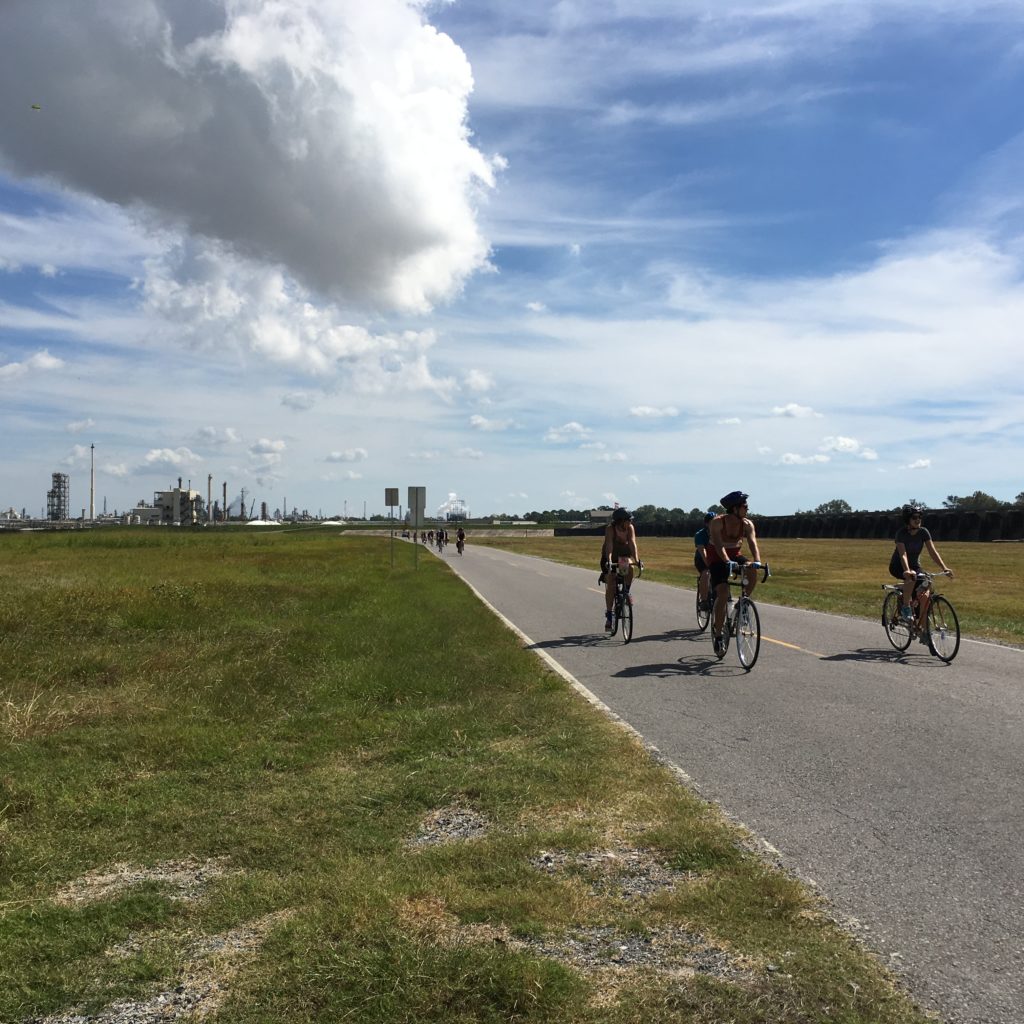 While you are riding, bring masks and hand sanitizer, respect physical distancing, and make sure that you have an emergency contact who knows where you are and can pick you up if needed. We also have some more in-depth tips for safe biking in the pandemic, check them out! Please be aware that NOLA to Angola cannot provide logistical or emergency support to individual riders this year. Take care, and safe riding!